The Devon Launch
Click on the photos below to get a larger image. This new launch, made by Classic Boat of Connecticut, has a new Beta 10 HP engine. This 18 foot boat will cruise at 12 knots and hit 15 knots at maximum rpm.

Sound Marine Diesel LLC is the exclusive Beta Marine diesel engine supplier to Classic Boat, builders of the Devon Launch.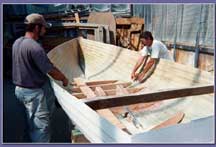 Here, the launch is being built by Andy Siwik, owner of Classic Boat [left] and Bill. They are working out some details concerning their "Devon Launch". Note the prop shaft and stern tube, installed.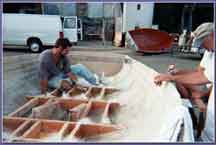 In this shot, Andy is fiberglassing floors and stringers into the bare hull. Note the robustly constructed engine stringers in the foreground. All these structural members combine to make the "Devon Launch" hull very strong and rigid. The hull mold can be seen in the background.




Here's Joe DeMers, installing the new Beta 10 hp diesel engine into Classic Boat's "Devon Launch".




With the deck and sole installed, the engine box is built.