Several Beta Marine diesel engines are available to replace Atomic 4 gasoline engine depending upon the vessel's displacement. General guidelines for displacement hulls follow, but please contact Joe DeMers for a specific recommendation concerning your boat and application.
Boats displacing up to 7,500 pounds may use the Beta Ten engine.
Boats up to 10,000 pounds may use the Beta Marine 13.5 hp engine.
Boats between 10,000 and 14,000 pounds need the 20 hp Beta Marine engine.
Boats between 14,000 and 18,000 pounds require the 28 hp Beta Marine engine.

The above replacement engines are available with Atomic 4 engine mount spacing at no additional cost. This precludes the need to modify the engine bed or stringers to accomodate the new diesel engine. Obviously, this saves much time and expense.

Beta Marine has the only Atomic 4 replacement engine line with this terrific feature.



Beta Marine, based in England, marinizes Kubota [Japanese] industrial diesel engines. These engines have an excellent reputation for high horsepower to weight ratio, longevity, smooth running, and low emissions. They are the most technologically advanced small diesel engines available today for marine applications. The available engine range is 10 through 75 horsepower. All Beta Marine engines are fresh-water cooled, naturally aspirated [non-turbocharged]. Several makes and types of transmissions, with assorted reduction ratios, are also available to suit most any vessel.

Low maintenance and repair cost is another advantage of Beta Marine diesels, as engine parts are available worldwide at any Kubota farm tractor dealer. Check your yellow pages for a nearby dealer. You will pay "tractor" prices, not "Marine" parts prices. The savings can be considerable, especially when compared to Beta Marine's competition! Also, Beta Marine is happy to supply anyone with part numbers for routine maintenance parts, so you can shop locally for your best deal on Wix, Napa, or Kubota lube oil filters, fuel filters, V belts, air filter, zincs, Jabsco impellers, etc.

Beta Marine recognized the oil change problem years ago, and supplies all their engines [optional on the Beta Ten engine] with a manual oil change pump mounted on the engine and plumbed to the low point of the oil pan. To perform an oil change, just open the valve at the base of the pump, remove a small cap at the pump discharge, and operate the pump with one hand. Unlike the cheap hand pumps we are all familiar with [and disdain] the Beta Marine pump is all brass, high quality, works easily and very efficiently. I install a piece of clear hose over the discharge pipe and lead it to a sludge bucket.

To finish the oil change, just close the valve, replace the cap, change the filter, and add new oil to the engine. This setup actually makes oil changes fun!

One customer liked this system so much, he had me install a pump on his transmission.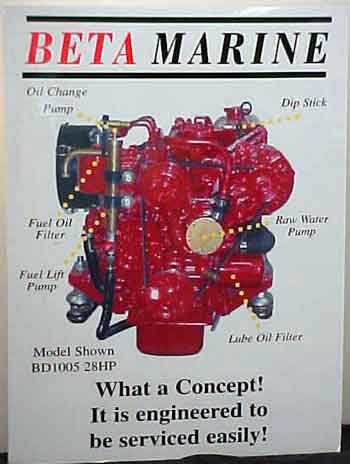 Please contact me for further information, or to get answers to your specific questions. I would also be happy to mail or fax detailed information concerning any Beta Marine product. If you want the detailed specifications of any product, you can look for it at the Beta Marine site or call me.

Beta Marine's line of fresh water cooled diesel engines includes the following -

Two cylinder engines

Beta 10 - 10 horsepower
BZ 482 - 13.5 hp


Mona displays the "Yachting White" Awl Grip paint option, on a 13.5hp engine.


These 2 engines are available with straight line, saildrive, or 15 degree V drive transmissions, and Atomic 4 engine mount spacing.
Three cylinder engines

BD 722 - 20 hp
BD1005 - 28 hp


These 2 engines are available with straight line, 8 degree down angle, saildrive, or 15 degree V drive transmissions, and Atomic 4 engine mount spacing.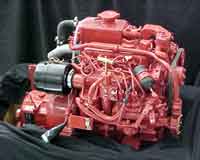 Beta Marine BD722, 20 horsepower engine.
Get a bigger image by clicking on this picture.
Four cylinder engines

BV1305 - 35 hp
BV1505 - 37.5 hp

These 2 engines are available with straight line, 8 degree down angle, or 15 degree V drive transmissions.

BV1903 - 43 hp
BV2203 - 50 hp
BV3300 - 75 hp

These 3 engines are available with straight line or 15 degree V drive transmissions.
Please see our Diesel Generators page for information about Beta Marine diesel generators.

---

Sound Marine Diesel, LLC sells all Beta Marine engines and generators at a substantial discount. Please contact Joe DeMers for a price quote on any Beta Marine product. New Kubota engines and generators, for industrial or non-marine use, can also be quoted at a discount.

We can also supply discounted engine parts for Universal diesel engines and Perkins diesel engines.

New and rebuilt marine transmissions, with warranty, from Borg Warner - Velvet Drive, Capitol, Newage/PRM, Paragon, Techno Drive, Twin Disc, and ZF/Hurth are available. Please contact Joe DeMers for discount pricing.


---
NEW DEVELOPMENTS
Beta Marine now offers a 70 amp alternator as an option on the 20 horsepower engine and a 100 amp alternator as an option on the 28 horsepower through the 75 horsepower engines. These alternators are very efficient, and will produce high output at low engine rpm. They feature a split charging system, so 2 separate battery banks, [such as house and engine start banks] can be charged at the same time. Also available is the Beta Marine controller, that is of the automatic "smart" type, to charge your batteries at the most efficient rate. This system will automatically adjust the charge mode to suit battery load, which ensures maximum life for your batteries.

Installation of the optional alternator on the BV 1903 [43hp] and BV 2203 [50hp] engines will replace the standard 65 amp alternator, without altering the width or length of either engine.



Beta Marine North Carolina Ltd, the U.S. distributor for Beta Marine products, now offers white Awl-Grip brand epoxy paint on their propulsion engines as an option. This paint is quite hard, scratch resistant, long lasting, and very high gloss. It's commonly used on yacht topsides and decks. Professionally applying this quality paint results in a real "yacht finish" for your engine and transmission. It also allows any fluid leaks to be easily observed and brightens the engine compartment. The cost for painting a BZ482 engine and transmission is $250, larger engines will cost a bit more.

Should you want any Awl-Grip color other than white, it will be a special order.




This is a BZ482, 13.5hp engine, with optional white Awl-Grip epoxy paint, viewed from the port side. Click on the image to get a bigger picture of this engine with its new color.



Please contact Joe DeMers for a specific quote on painting your new Beta Marine engine.



Westsail 32 owners that will be repowering with the BV 1505, 37.5 horsepower engine, can now order special aft engine mounts, to make the installation much easier. There is also an adapter plate available to accomodate a Borg-Warner Velvet Drive transmission. This means you can order the new Beta Marine engine "bobtail", meaning without a transmission, and use your present Velvet Drive transmission, to save money.



A new engine panel is now available, which completes the Beta Marine engine panel line. There is now a panel to suit most any mounting area or budget. All panels have 10 feet of wiring loom, to reach the engine, with longer lengths available. It's "plug and play" to wire the engine to the panel, which is very convenient and mistake proof. A push button, to stop the engine, is included, also mounted on the panel. No rusty stop cable worries here, as the engine shut down system is electrically operated.

Here's a recap on the panels available:



Type "A" engine panel is standard with the Beta 10 engine, and consists of a start key, with engine warning lights and horn, for low oil pressure and high coolant temperature, and a light indicating that no battery charging is occuring.


Type"AB" panel is standard on the 13.5 hp, 20hp, 28hp, 35hp, and 37.5hp engines, optional on the Beta 10, and includes the above features, while adding a tachometer and digital hourmeter. It is sized to directly replace the old Kubota panel.


Type "B" is the new panel option, and includes all the above features, with the addition of an engine temperature gauge. It's a bit larger than the "AB" panel, and will fit all the above engines, except for the Beta 10.


Type "C" is the top of the line panel, and includes all the above features, with the addition of complete instrumentation, such as an oil pressure gauge, coolant temp gauge, and voltmeter. Type "C" is standard with the 43hp, 50hp, and 75hp engines, and optional on the smaller engines. It fits very nicely on a Catalina 30, with the 20hp engine installed. Click on the image below for a bigger picture of this panel.





The optional "C" or "Deluxe" instrument panel.



All Beta Marine engines are now available "Bobtail", or without transmissions, at a cost savings. This is ideal for the person who wishes to retain their current Hurth/ZF, Technodrive, or PRM transmission. Also available is a factory adapter that allows Borg-Warner Velvet Drive transmissions to be mounted to the engine. Please contact Joe DeMers for details.



Saildrive transmissions are available for the following Beta Marine engines: BZ482, 13.5 horsepower; BD722, 20 horsepower; BD1005, 28 horsepower. These engine/saildrive 2:1 reduction units are very compact, and easy to install. They are ideal for the boat owner who wishes to install an engine himself, or where there is minimal room to fit an engine using a conventional inline transmission and prop shaft. One only needs to trim the fiberglass engine bed to fit the hull, cut the hull to accept the saildrive lower unit, epoxy the engine bed in place, and mount the engine. Also, engine/shaft alignment, and leaky stuffing box problems are forever eliminated, unlike a conventional prop shaft installation.



Beta Marine owners now have the option of retaining their saildrive transmission when repowering with a new Beta Marine engine. For example, if your engine is a Kubota MD11 with saildrive, you may order the new Beta Marine 20hp or 28hp engine so it will fit your presently installed Beta Marine transmission and engine bed. This is ideal for the boat owner wishing to save money and time when repowering. Please contact Joe DeMers for details.



Remote lube oil filter mounts are now available to fit most Beta Marine engines. This allows the lube oil filter to be placed wherever one desires to facilitate engine maintenance. On a Beta Marine repower, with the 50hp Beta Marine engine, the oil filter was placed just under the cabin sole, in an upright position. The owner can now just lift the sole board, put a bucket under the oil filter, and quickly and easily do an oil change. This feature, combined with the standard oil pan pump, makes oil changes clean fun!



Technical drawings, including dimensions, of all Beta Marine engine and transmission combinations are available by request. Please send your mailing address, or fax number, with a note concerning what engines you are interested in, to JEDSail@Mindspring.com.



Beta Marine now offers a remote mounted engine coolant tank, made of heavy cast aluminum, that is primarily designed to be used when a separate hot water tank is installed in the boat. The hot water tank will heat and store domestic fresh water for showers and cooking whenever the engine is running. In many water heater installations, the hot water tank is mounted higher than the engine, resulting in air being trapped in the tank. This can lead to the engine overheating since the trapped air acts as a blockage in the engine's cooling system. This new "header tank" is equipped with a pressure cap, just as is your car's radiator, to regulate engine cooling system pressure. The pressure cap also works as a valve to bleed air from the cooling system. It can be mounted in any convenient location on a bulkhead that is higher than the domestic hot water tank. Catalina 30 sailboat owners will want to install this header tank in the port cockpit locker where it can be easily reached for checking the engine coolant level.

This header tank can also be used when the engine's standard pressure cap is inaccessible, as it can be on some boats that use a V drive transmission. The Pearson 323 is one such design that can benefit by mounting the header tank in a cockpit locker. The header tank also increases the capacity of the engine cooling system.

Dimensions - 8" long, 7.5" tall, protrudes 4.3" from the bulkhead. Is easily attached to the bulkhead with 4 screws. The addition of a separate coolant recovery tank will ensure that the header tank remains completely filled with coolant and will also purge the engine cooling system of air pockets.

Here's how the system works -

As the engine warms to operating temperature, the fresh water coolant expands and pressurizes the cooling system. When the pressure reaches 15 psi, the pressure cap valve opens, maintaining the correct system pressure. As the engine is operated and coolant freely circulates, trapped air will find it's way to the high point of the cooling system, which is this header tank. The air will be bled off when the pressure cap valve opens. This occurs periodically while the engine is running. If a separate coolant recovery tank is installed, any coolant that's expelled from the header tank will accumulate there. When the engine is shut off, it slowly cools down creating a partial vacuum in the engine's cooling system. The pressure cap valve now opens under this vacuum which causes coolant to be sucked from the recovery tank into the header tank.

The net effect of this action is to purge all air pockets from the engine cooling system which otherwise may cause localized engine overheating. Having the engine cooling system completely full and purged of all air, helps maximize engine life and reliability. To check for the correct coolant level just look at the coolant recovery tank, as it's made of translucent plastic. This refinement is highly recommended for any fresh water cooled engine.



An engine power take off and mounting bracket is now available for Sea Frost refrigeration compressors. This will allow the Sea Frost unit to be mounted on your new Beta Marine engine, and be mechanically driven. All the required hardware is designed and installed by the Beta Marine factory, for maximum reliability. Please contact Joe DeMers for details.
Beta Marine BZ482 engine with 13.5 horsepower and standard transmission